Morné and his Coaches
'I am proud and honored and so thankful to call these warriors my coaches'

Roberto Atalla
BJJ World Champ and Coach
Met Roberto in 2014 when i hosted him for seminars and personal training. Roberto is a high quality coach and heads one of the most dynamic grappling associations in the world today, Rio Grappling Club. I was honored to be appointed head coach and representative for KwaZulu Natal. Roberto is one of the most humble and friendliest guys you will meet.

Jim Wagner
Self Defense Expert
I met Sgt. Jim Wagner in New York, June 2006. I attended his week long Instructors course and was blown away with what he had to offer in terms of military, security and personal protection. It was also after i was certified in New York that Jim appointed me as the director of South Africa for his system Reality Based Personal Protection. Jim visited South Africa for the first time in March 2007 where we conducted seminars in Durban and Johannesburg.

Burton Richardson
JKD Unlimited
My involvement with Burton since 1996 has been a life changing experience. It was thanks to Burton that i found new goals in the Martial Arts by searching for more functional and dynamic training methods and techniques. He has been a pillar of strength by sharing his knowledge not just on a fighting level but by improving my coaching standards and being one of my life coaches. We have traveled the world together conducting seminars in Africa, Reunion, Spain, Italy, UK and USA. I am proud and honored to be noted as one of the first fully certified Instructors for JKD Unlimited.
Erle Montaigue (1949 - 2011)
Chinese Martial Arts Master
I started corresponding with Master Erle in 1995 and had the great honor of finally meeting and training with this legend in 1999 at a training camp in Australia. Since then i have trained with Master Erle extensively even following him to other camps in countries like Germany. Master Erle was one of the most humble, gentle and kind Martial Artists one would ever meet. I'm honored to have spent the time i did with him and privileged to being personally certified and appointed as his SA Representative. His Taiji will forever live on.

Chris Haueter
BJJ World Champ + Coach
I met Chris in March 2008 and hosted him several times for seminars and personal training in South Africa. Chris is one of the most dynamic coaches i have ever trained under. He has a very unique and dynamic coaching method and sense of humor :-) I am honored to be associated, recognized and apart of Chris Haueter and his Combat Base ™

Felipe Costa
BJJ World Champ + Coach
I met Felipe in 2005 during a 2 week training camp in Brazil. I also hosted Felipe several times in South Africa for seminars and personal training. Felipe is an amazing coach and fighter. I spent allot of time and gained so much knowledge from this dynamic BJJ specialist! What an honor and privilege to be part of the Brazilian BlackBelt BRASA team!

Tom Sotis

AMOK Tactical Weapons Expert
AMOK! I first met and trained with Tom in 1999 during his first visit to Durban South Africa. My first experience was the classical Filipino blade master with a host of fancy moves and disarms. Since 1999 i have trained with Tom on several ocassions and every time it became the obvious why he has become one of the leading experts with the blade in the world today. His knife fighting system (AMOK) evolved into a total street combative system with dynamic offensive and defensive tactics, techniques and training methods.
I continue studying and learning from this humble warrior.
Richard Bustillo

Jeet Kune Do Expert

Mr Bustillo is best known as being one of Bruce Lee's original students. I had the great honor and privilege of meeting and training with this Martial Arts legend during his first visit to South Africa in 2007. Mr Bustillo possesses a wealth of knowledge in various arts and exposes one to a very unique and motivating teaching style. Mr Bustillo trained me in Jun Fan Jeet Kune Do, Muay Thai Boxing, Wing Chun, Kali, Brazilian JiuJitsu and Law Enforcement/Security training methods and techniques.

Baret Yoshida
BJJ World Champ + MMA Fighter

I met Baret in 2001. We conducted seminars in Johannesburg and Durban and also got 2 weeks of intense private training sessions in. Baret is a true warrior and lives, breathes and eats fighting. It was and intense time of hard training with one of the worlds best. I learnt so much from this modern day warrior in terms of loyalty, respect and honesty.


Rodrigo 'Comprido' Medeiros
BJJ World Champ + Coach
I met Comprido in 2005 during a 2 week training camp in Brazil. Comprido is an amazing coach, fighter and real funny guy. He is well respected in the BJJ circles and also known as UFC Fighter, Brock Lesnars coach. Truly blessed to have been able to spend so much time training and living with a BJJ legend.


Brian Mitchell
14x Boxing World Champ
I met Brian in the mid 90's. Was very fortunate to reside in the same area as Brian and be able to meet and train with this boxing legend. Brian and myself also appeared on MNET SuperSport TV show together where we discussed training and fighting during a live interview.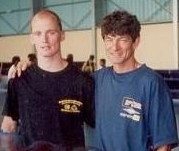 Daniel Duby
The father of Savate in USA
I met Daniel in 1997 during a trip to Reunion Islands. Daniel is a world famous Savate (French Kick Boxing) instructor. It was a great honor to train with Daniel at a JKD seminar and get to do some private training at his house! What a legend!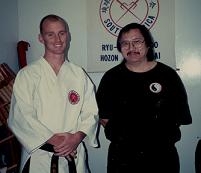 Shihan/Sifu Eddie Jardine
Martial Arts Master
I trained with Sifu/Shihan Eddie Jardine for a decade and became one of his senior instructors for the International Tai Chi Society and Yuishinkai Kobujutsu (Traditional Karate/Kobudo). My first trip abroad was with Eddie Jardine to China and Japan. This gave me a good base and understanding of the Internal and External Martial Arts. Shihan Eddie is an amazing person and was a humble father figure in my eyes.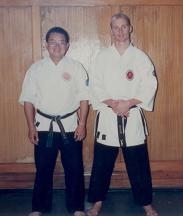 Sensei/Sifu Winkin Leong
Martial Arts Master
After almost 15 years in sport karate and amateur wrestling i was finally exposed to Tai Chi and traditional more practical Karate - Kobudo thanks to Sifu/Sensei Winkin Leong. After a couple of years i trained and assisted Winkin at his Robertsham and Wits University training groups. I was later asked to take over the Wits University training group. It was thanks to Winkin that my Tai Chi and Karate/Kobudo/Aiki Jitsu was taken to a new level by introducing me to Eddie Jardine. I will forever be grateful to Sifu/Sensei Winkin for his knowledge, guidance and positive influence.

Soke Kisho Inoue
Traditional Martial Arts Master
Every Karateka's dream is to train in Japan. I was fortunate enough not just to train in Japan but also to spend 2 weeks with great masters in traditional kobudo. Here i am with 'Hanshi' head of Yuishinkai Kobujutsu who i trained under for 10 years. Very humble and extremely knowledgeable!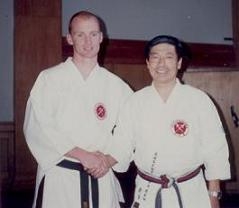 Shinghai Shihan
Traditional Martial Arts Master
Also known as the last Samurai in Japan. Shinghai Shihan is my most favorite traditional martial artist i trained with in Japan. I learnt so much from this true master of Kobudo. I was also blessed to be able to train with him in South Africa during a International Yuishinkai Kobujutsu training conference.

Michel le Roux
Savate Technical Director
I was fortunate to have trained in French KickBoxing under the guidance of the legendary Michel le Roux from France. Hosted him for training seminars in South Africa after which i was chosen to represent South Africa at the Olympic training camp in Paris. Spent two weeks of intense training which was a once in a lifetime experience where i could train with the worlds best KickBoxers and share notes with the best coaches.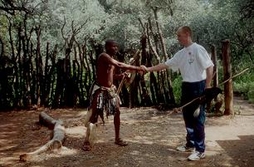 Zulu Stick Fighters

I traveled several times to Magaliesburg training many hours with Zulu Stick Fighters. An awesome experience exchanging combat techniques and tactics and most of all sparring.
Martin Rooney
Training for Warriors
I have been researching Martin's work since 2008 with the release of his book 'Training For Warriors'. In 2013 i was privileged to be part of the first group of certified level 1 Instructors and also in 2014 as a level 2 Instructor in Coach Martin's Training for Warriors System. Coach Martin is a huge influence and mentor for me in my journey as a Martial Artist and Fitness enthusiast.

Kelly McCann
Combatives Expert
I met Kelly in 2014 during his visit to South Africa. I was privileged and honored to host Kelly at my gym for a 3 day intense training camp. Kelly is known as one of the most respected high risk combatives Instructors today. Look forward continuing training with this legend.
I would also like to dedicate and acknowledge the following people who i have trained and studied under whose photo's unfortunately went astray:

Matt Thornton (Straighblast Gym, USA)
Roger Gracie (Brazilian JiuJitsu, UK)
Ricco Rodriques (Mixed Martial Arts, USA)
Master Abner Pasa (Filipino Kali, Philippines)
Janette Schulz (South African Self Defence)
Sensei Neil Lindsay (Goju Karate - South Africa)
Sensei Dennis Watson (Funakoshi/Goju/JKA Karate South Africa)
Shihan Johan van Niekerk (Goju Karate South Africa)
The Knight's (Ronald, Andrew, Kenneth, Gavin and Frank) Ridgeway Amateur Wrestling


Last but not the least to all my students who continuously motivate me.
Thank you!